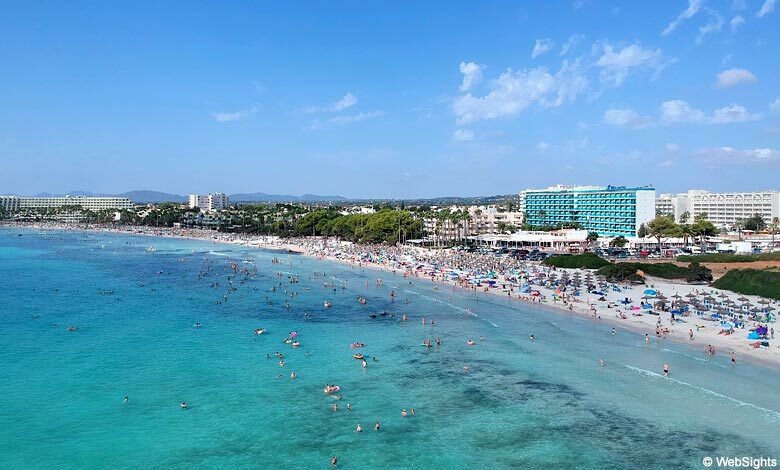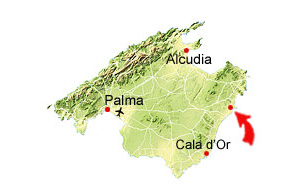 Sa Coma is located on the east coast of Mallorca, just south of Cala Millor. Between the two holiday towns sits the unoccupied peninsula of Punta de n'Amer, which impresses with its wild nature.
The beach in general
The beautiful sandy beach in Sa Coma is almost a kilometer long and quite wide. The water is clear, and relatively shallow. On days of easterly winds, waves may appear, and then lifeguards will keep an extra eye on the bathers.
The beach has many sections with sunbeds and umbrellas, and of course there are also showers and restrooms at the beach. Behind the beach runs a wide promenade that is perfect for a stroll. The promenade stretches all the way down to Cala Moreya just south of the neighboring town of S'Illot.
The large 4-star Hipotels Mediterráneo Club is right next to the beach, and with its many activities it is perfect for the family holiday.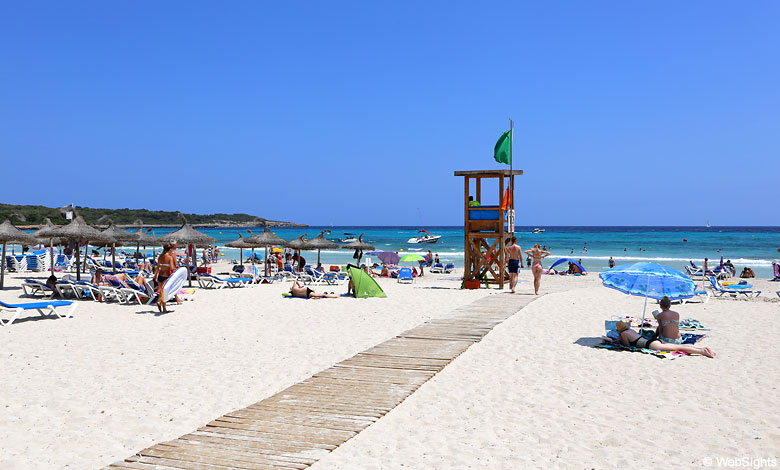 Child friendliness
The sand is fine and although the beach is popular, there is usually plenty of room to play. The water is also child-friendly, however, the waves can become strong on days with wind from the east.
Water sports
Sa Coma offers many watersport activities, for example parasailing, jet skiing, banana boat and the classic water bikes.
Beach restaurants
There are many restaurants, cafés and bars along the beachfront promenade. Several of them are owned and operated by the English, who have moved to Sa Coma. At one of the restaurants there is also a fine playground.
Sa Coma holiday resort
Sa Coma is among the nicer tourist towns in Mallorca. It began to be built as a decidedly tourist town in the 1980s, and has grown ever since. The hotel standard is generally good and many hotels offer mediterranean views.
The city has a large selection of restaurants and cafes, especially along the seafront. In the streets behind the beach there are many tourist shops and local supermarkets.
Sa Coma has many options for those who want a break from the beach life. An obvious activity is a trip around the city by either mini-train or horse-drawn carriage. A little more sweat on the forehead gives a hike on the protected peninsula of Punta de n'Amer, where the watchtower and the attached restaurant are located. Many families with children also visit the Safari Zoo on the outskirts of Sa Coma, where it is possible to see the wild animals from either your own car or the park's safari bus.
---
Our video from Sa Coma – subscribe to our Youtube channel here.
---
Sa Coma map
The almost one kilometre long beach Playa Sa Coma. In the bottom of the satellite photo you can spot the much smaller beach Playa S'Illot.