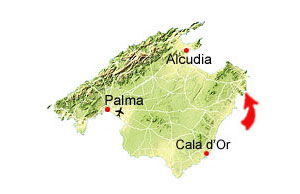 Canyamel is halfway between the holiday destinations of Cala Ratjada and Cala Millor in northeastern Mallorca. The town is 76 km (about an hour's drive) from Palma de Mallorca airport.
The region used to be home to sugarcane plantations and bee yards and the name Canyamel is a reflection of this history. The Spanish word for sugarcane is caña while the word for honey is miel.
The beach in general
The urban beach of Platja de Canyamel has a picturesque location in a bay with high mountains on both sides of the beach.
The white-sand beach is 290 metres long and 80 metres wide and borders the clear, turquoise water. The facilities available at the beach include sun lounger and parasol rental, toilets, showers, a lifeguard and a court for beach volleyball.
Thanks to its distance to the popular holiday destinations, the beach is rarely packed even in the high season. Parking near the beach is easy and free of charge.
Child-friendliness
The water is shallow and there is plenty of space for ball games, etc., so the beach is very child-friendly.
Water sports
Pedalos are available to rent. On top of that, the beach has its own sailing and windsurfing school, not to mention a diving school.
Beachside restaurants
There are a couple of cafés practically on the beach and the nearest shop is close by.
Canyamel holiday resort
Canyamel is an incredibly peaceful holiday destination. The small town centre offers a variety of shops, restaurants, and small supermarkets. Should you need a wider selection, you can find it in the nearby towns of Capdepera and Arta. Arta even has a market that specialises in arts and crafts on Tuesdays.
Canyamel borders tall mountains and forests on both sides. The river Torrente Canyamel runs straight through the town and lets out on the left side of the beach. There is a beautiful golf course and the tourist attraction Coves d'Artà in the vicinity. The latter is a gorgeous stalactite cave located a fifteen-minute walk from Canyamel. It is definitely worth a visit.
There are only a few hotels in town and the majority of guests stay and private holiday accommodation. On the outskirts of town, you will find the luxurious and beautiful 5-star Cap Vermell Grand Hotel, which offers a spa, gym and four restaurants amongst other things.
---
Our video from Canyamel
---
Playa de Canyamel map
The gorgeous beach and turquoise water can both be seen clearly on the map. To the north of Playa de Canyamel is another wonderful beach by the name of Sa Font de Sa Cala.