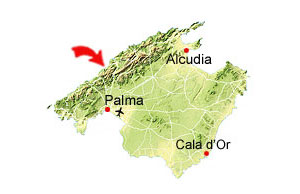 The beautiful mountain village of Deia is located between Soller and Valldemossa in the northwestern part of Mallorca. There are 2.7 km long narrow, winding roads from the village down to the beach Cala Deia. It is possible to walk along the road, but most people prefer to drive by car.
Cala Deia beach in general
Cala Deia is a smaller pebble beach, located in picturesque surroundings in a small rocky bay. It is without a doubt the most beautiful pebble beach in Mallorca.
The beach is about 70 meters long, but only 6-10 meters wide. Small areas are covered with gravel, the rest are covered with stones of all sizes. The water is completely clear and invites you to swim between the rocks on both sides of the bay.
The beach has almost no facilities. No sunbeds, no showers and it is only the two restaurants that can provide access to bathrooms. On the other hand, there is a relatively large parking lot (for a fee) right next to the beach.
Note that there are often many tourists in July and August, especially on weekends. Cala Deia is therefore most charming in early and late summer.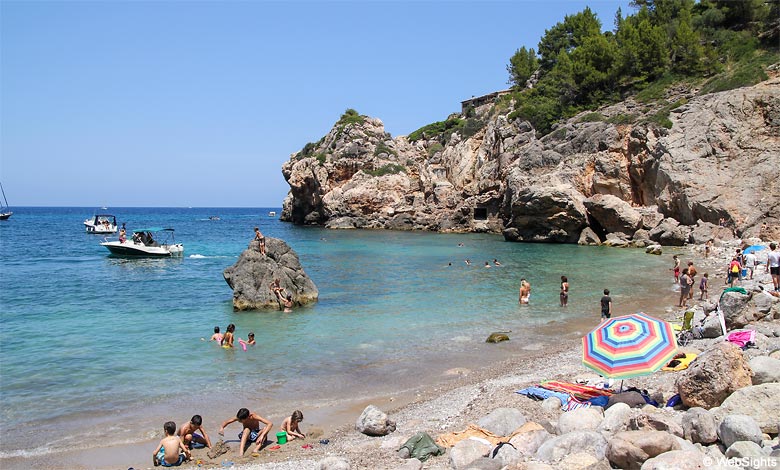 Child friendliness
Only small areas with gravel otherwise primarily larger stones and rocks and not very shallow water. So, all in all, Cala Deia is not a child-friendly beach.
Water sports
The cliffs on both sides of the bay, and several large rocks in the water, provide great conditions for snorkeling in the still and crystal-clear waters.
Restaurants by the beach
There are two great restaurants, both with spectacular views of the bay. Especially Ca's Patró March, which is located right on the cliffs on the left side of the bay. Both of the restaurants are known for their seafood dishes.
The mountain village of Deia
A few hundred years ago Deia already began to attract artists, writers and musicians. It had a positive effect on prosperity, and over time the city became one of the richest and most beautiful villages in Mallorca.
The town's guests are greeted by charming alleys with traditional ochre-colored stone houses and small flower gardens. There is a fine selection of small galleries, neat shops and restaurants. The restaurant Es Raco d'es Teix even has a Michelin star. There are also a few hotels, not least the 5-star luxury hotel Belmond La Residencia.
Down by the beach Cala Deia there are 10-20 houses, and a few of them are rented out privately.
---
Map of Cala Deia
The beach is not too big, as the map indicates. To the left of the beach are some traditional fisherman's huts and the restaurant Ca's Patró March. The other restaurant is just behind the beach.