Cala Murta is located on the Formentor peninsula on northern Mallorca and the popular viewpoint known as Cap de Formentor can be found a couple of kilometres to the northeast.
The beach in general
Cala Murta is a beautiful, remote beach hidden deep inside a bay surrounding by cliffs.
The beach is only 80 metres long and 20 metres wide and its sand is mixed with rocks of various sizes. The water is crystal clear, but it might be worth noting that it is also home to rocks and cliffs. There are rarely any waves to report, making the bay the perfect place to go for a relaxed swim.
Aside from a few tables and benches where you can eat your food, there are no amenities on the beach. It isn't particularly well-frequented, so you might find yourselves all alone on the beach, even in the middle of the high season.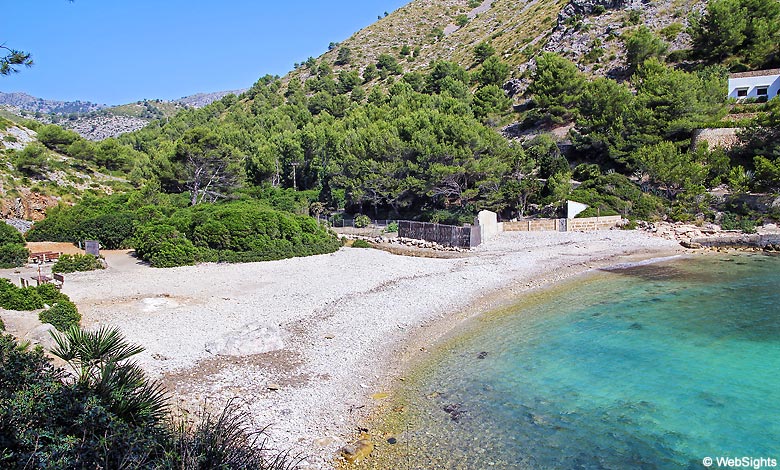 Driving directions: Park on the Cala Figuera parking lot (by the MA-2210) and walk to the house right by the parking lot. There's a path all the way from this house to the beach. The trip takes 20-25 minutes.
Child-friendliness
Due to the many stones on the beach, Cala Murta isn't particularly child-friendly.
Water sports
There are no water sports available, but the beautiful bay is perfect for snorkeling.
Beach restaurants
There are no restaurants or beach bars in the vicinity of the beach or by the parking lot, so remember to bring food and plenty of liquids, especially when it's hot outside.
Holiday resorts in the vicinity
The closest holiday town is Puerto Pollensa, which is located 13-14 kilometres west of Cala Murta. This is also the last place you can stop to stock up on provisions.
Between Puerto Pollensa and Cala Murta, you'll find the impressive viewpoint known as Mirador Es Colomer, which is the ideal place to take a short break. The walk from the parking lot by the road to the viewpoint is only a few minutes long
---
Cala Murta map
Cala Murta's location means that it is well-protected against wind and waves. There's a similar remote and natural beach to the north, known as Cala Figuera. The incredibly popular beach by the name of Cala Formentor is located southwest of Cala Murta.