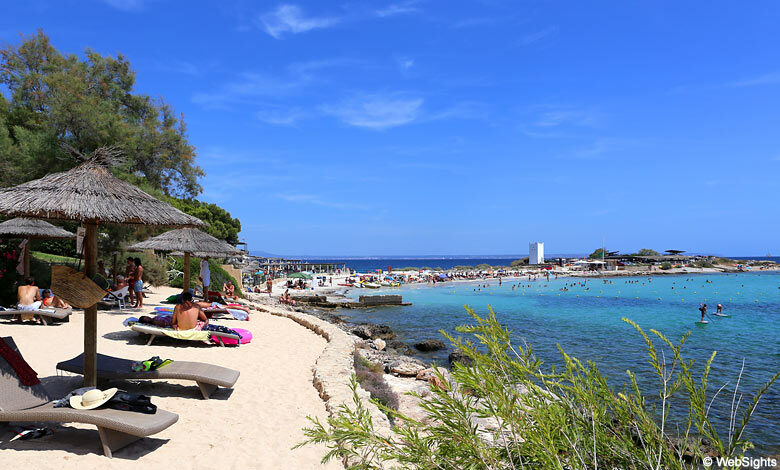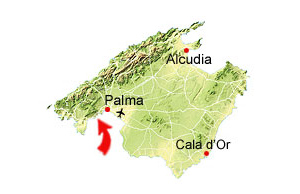 The beach Cala Xinxell is located in the holiday resort Illetas in the southwestern part of Mallorca. The distance to the capital, Palma de Mallorca, is less than 10 km.
Along with the towns Bendinat, Portal Nous and Cas Catala nearby, the area is one of the most exclusive areas in Mallorca.
The beach in general
Cala Xinxell is located on a small peninsula in the southern part of Illetas. The surrounding scenery is incredibly beautiful, which makes the bay a popular spot for small yachts and sailboats.
The beach is 100 m long and covered with fine-grained sand, and the water is rather shallow. The bay usually provides good protection against waves.
It is possible to rent sun lounges and sunshades at the beach, but there are no toilet or shower facilities. During the high season, the sun lounges are hard to come by, and the chances are best early in the day.
Cala Xinxell is a bit overshadowed by the two more famous beaches in Illetas: the main beach, Platja d'Illetas, and the somewhat smaller beach Cala Comptessa. Both of these are only a short walk away from Cala Xinxell.
Child-friendliness
The sand is soft and the water is rather shallow. However, it may be a bit too crowded to play in July and August.
Water sports activities
It is possible to rent water bikes and sometimes sea kayaks. The calm water in the bay is very suitable for both activities, and for experienced paddlers it is possible to reach Portals Nous by sea kayak.
Beach restaurants
There is a nice beach bar with a relaxed lounge atmosphere. The closest restaurant is located near Cala Comptessa approx. 300 m away.
Illetas holiday resort
Illetas is a nice and quiet holiday resort. Most of the hotels have four or five stars; including the romantic Barcelo Illetas Albatros, which is reserved for adults.
The selection of restaurants and shops is not that varied, but there are some in the winding main street, Paseo de los Illetas. In the northern end of the main street, there is a small shopping centre with a supermarket.
However, the neighbouring town Portals Nous is home of some of the best restaurants in Mallorca, e.g. the Michelin starred restaurant, Tristan. Portals Nous is also known for its designer shops and exclusive nightlife.
---
Cala Xinxell map
The beautiful beach Cala Xinxell in the bay of the same name. The resort of Illetas is to the North and so is the beach Cala Comptessa.