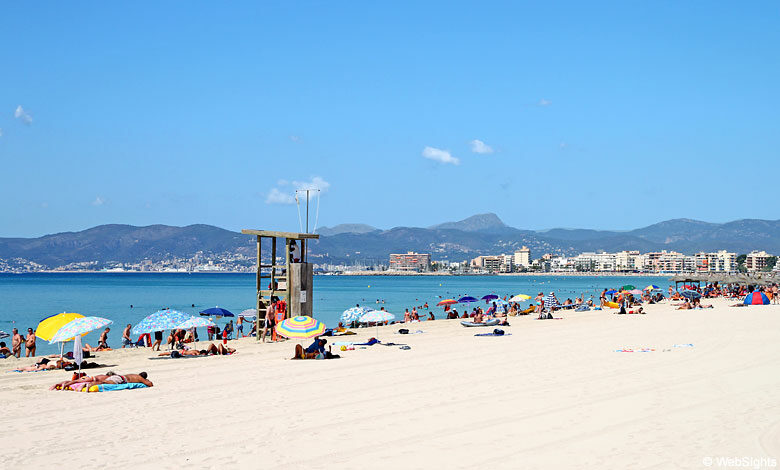 Playa de Palma is the name of the part of the Bay of Palma, which is located between the two holiday resorts Ca'n Pastilla and s'Arenal.
The entire area is called Playa de Palma, but actually consists of the three coalesced holiday resorts Sometimes, Las Maravelles and Ses Cadenes.
The beach in general
The lovely Playa de Palma beach is 5-6 kilometres long and has several wide areas. The sand is fine-grained and the water deepens slowly.
The beach has many sections with sun lounges and sunshades and there are lifeguards, showers and toilets several places along the beach. Even though there are a lot of people, there is always room. Behind the beach, there is a nice, wide sea front with approx. 15 beach bars called balnearios. At the sea front, there is also a wide variety of restaurants, cafés and tourist shops.
You can park in the streets behind the beach, where you are usually able to find a free space.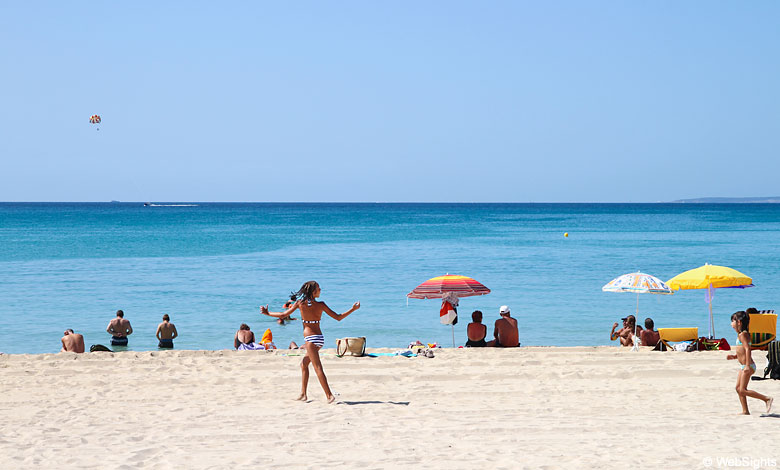 Child-friendliness
Except for its great popularity during the high season, the beach is very well suited for children of all ages. The water is shallow.
Water sports
You will find all types of water sports activities, including parasailing, banana boat, water skis, windsurfing and jet skis. The snorkelling conditions are not very good here.
Beach restaurants
There is a fine selection of restaurants, cafés and bars. Not least the 15 identical balnearios, which are evenly distributed along the entire beach. Here you can buy drinks, ice cream and fast food.
Playa de Palma holiday resort
The entire area from Ca'n Pastilla to S'Arenal is one large continuous holiday resort. The nicest neighbourhoods along the beach are located in the central part of the bay, where there is more space between the hotels.
Right here, the popular Spanish hotel chain Iberostar has three beautiful hotels
, for instance the family-friendly Iberostar Cristina , which is located right next to the lovely sand beach.
The area has some popular activities, such as the Palma Aquarium and the Aqualand water park, and the city Palma de Mallorca is only a short bus ride away.
---
Playa de Palma map
Playa de Palma goes from Can Pastilla in the north-west to S'Arenal in the south-east. The area is 5-6 kilometres long. If you zoom all in on the map, it is possible to see the 15 balnearios. Further to the north-west, you can see Palma de Mallorca.