Mallorca has had markets for hundreds of years, and they are a permanent part of the Mallorcan tradition and culture. There is a market every day of the week, but the goods on offer differ from market to market.
The markets typically open around 8-9 in the morning and close around 1-2 in the afternoon. If you want to beat the crowd, you should arrive early, but there are usually great deals on food close to closing time.
Monday
After the weekend markets, Mondays tend to be relatively quiet. The most interesting one is located in Calvia, west of Palma de Mallorca. The market offers around 60 stalls filled with agricultural goods, clothes, shoes, and Mallorcan crafts. The market in Manacor is home to a selection of ceramics stands.
Other markets: Cala Millor, Caimari, Lloret de Vistalegre, Manacor, Mancor de la Vall, Montuïri.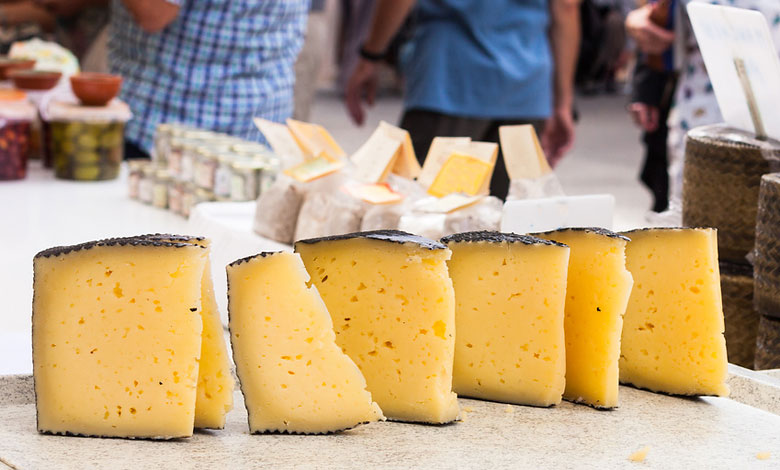 Tuesday
The first big market of the week takes place in Alcudia old town, where there is a market on Tuesdays and Sundays. The market is focused around Carrer Major and Carrer Mol, and the goods on offer comprise everything from food to local crafts. Alcudia's market is particularly well-known for its leather goods. The lovely, historic town is popular as it is, and it tends to get busy on market days. Arrive early.
Other markets: Arta (crafts and more), Can Pastilla, Porto Colom, Santa Margalida, Campanet, Llubi.
Wednesday
The most famous Wednesday market is located in Sineu, which is practically in the middle of Mallorca. The market has taken place here for more than 700 years and offers a wealth of goods, right from fruit, vegetables, and fresh herbs to homemade wine, clothes, and crafts. There is even a separate animal market, where it is possible to buy horses, donkeys, pigs, goats, hens, and ducks. Arrive early to beat the crowds—the cosy market streets of Sineu tend to fill up on Wednesdays.
Other markets: Puerto Pollensa, Capdepera, Santanyi, Andratx, Llucmajor, Petra, Colonia Sant Jordi.
Thursday
On Thursdays, you can visit the biggest outdoor market on Mallorca, which is located in Inca. Naturally, the market offers fresh fruit, vegetables, delectable wines, and Mallorcan delicacies, but there are also plenty of stands with homemade leather goods, bags, baskets, clothes, and shoes.
Other markets: Ariany, Campos, Sant Llorenc, Ses Salines, Sant Joan, S'Illot.
Friday
As far as markets go, Fridays tend to be quieter. The market in Son Ferrera in southwestern Mallorca is worth a visit, as it offers a selection of fruits, vegetables, and Mallorcan sausages. There is also a marked in Son Servera in eastern Mallorca.
Other markets: Sa Cabaneta, Maria de la Salut, Algaida, Llucmajor, Binissalem, Ca'n Picafort.
Saturday
Saturdays are a big market day in Mallorca. On the western coast, there is a market in Sollér, where you can buy meat, fish, vegetables, fruits, and beautiful flowers. There tends to be music in the streets, and the market in this lovely, historic town is most definitely worth a visit.
Saturdays also bring about large flea markets in Palma de Mallorca and Campos, where you can buy practically anything, right from used books and furniture to clothes, porcelain, and art.
Other markets: Bunyola, Esporles, Santanyi, Búger, Costitx, Alaró, Porto Colom, Santa Ponsa.
Sunday
On Sundays, there is a market in the historic part of Pollensa, where you can get your fill of exciting delicacies. These include local cheeses, Mallorcan sausages, olives, olive oil, and a bunch of local wines. One of the special things about this market is the large selection of jams (up to 40 different kinds). A lot of the products sold are organic.
Other markets: Alcudia, Llucmajor, Felanitx, Muro, Valldemossa, Santa Maria del Cami, Porto Cristo.