Beaches in the east of Mallorca
The eastern part of Mallorca treats its visitors with a diversity, which is hard to find anywhere else on the popular holiday island. Mountains, sand beaches, rocky bays, modern holiday resorts and charming villages – this part of Mallorca has it all.
This diversity also applies to the beaches. Here you will both find remote bays and long sand beaches near some of the most popular holiday resorts in Mallorca.
However, the east coast is best known for the beaches that are located deep inside the most beautiful rocky bays. In Spanish, this beach type often includes the word cala and the most prominent examples are the five lovely beaches near the holiday resort Cala d'Or (photo above). Further to the southwest, you will find another famous cala: the natural beach Cala Mondrago (photo below), which is located in a beautiful national park.
For those who feel like taking a longer walk (min. 5 km), the marble bay Calo de Marmols (photo below) is very tempting with its beautiful rocks and crystal clear water. The walk is through a rather impassable terrain, so there are usually not many visitors at the beach – not even during the high season. The 15-minute walk to the just as beautiful natural beach, Cala Varques, is less demanding, but then you will also meet more people during July and August.
The east coast of Mallorca has many popular holiday resorts, the biggest ones being Cala Millor, Sa Coma and Cala Ratjada. All three holiday resorts have a lot of action with large all inclusive hotels, lots of shops, a wide selection of restaurants, large beaches and an active nightlife for the young people. The lovely Cala d'Or (photo below) is a bit more exclusive and quiet and has many returning visitors.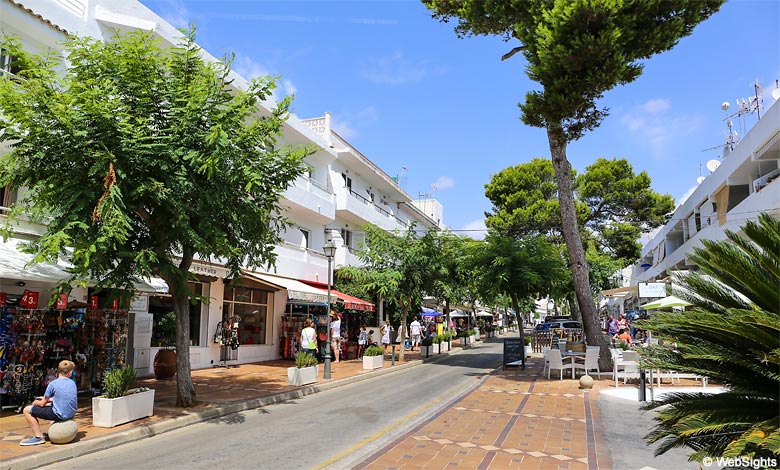 Behind the coast, you will find many interesting towns that are worth a visit. In particular the town Artà, which will treat you with a genuine and authentic Mallorca experience despite its tourist influence. In the small narrow streets, it is possible to buy products from the many local artisans and craftsmen and on Tuesdays, the local market is buzzing with life. Another exciting town is Felanitx, which is known for its wine production. Here you can visit the local market on Sunday mornings.
---
Mallorca east map
The three large holiday resorts Cala Millor, Sa Coma and Porto Cristo are located in the northern half of the east coast, and Cala d'Or is located in the southern part.