Platja d'es Moli de s'Estany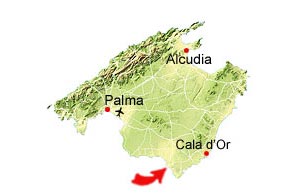 Platja d'es Moli de S'estany is located in the north-western part of the holiday resort Colonia Sant Jordi, approx. 14 km south of the larger town Campos. The beach is also called Platja s'Estany.
Next to the beach the 4-star Universal Hotel Marqués offers excellent views to the Mediterranean and the beach.
The beach in general
The lovely beach Platja s'Estany is approx. 500 m long and 25 m wide on average. The beach has bright and fine-grained sand. The water is very shallow and has beautiful turquoise shades. The beach is slightly better protected against waves than the nearby beach Es Trenc.
There is a large section with sun lounges and sunshades. There are also toilets by the beach, but no showers to wash off the salt water. Cars can be parked in Colonia Sant Jordi.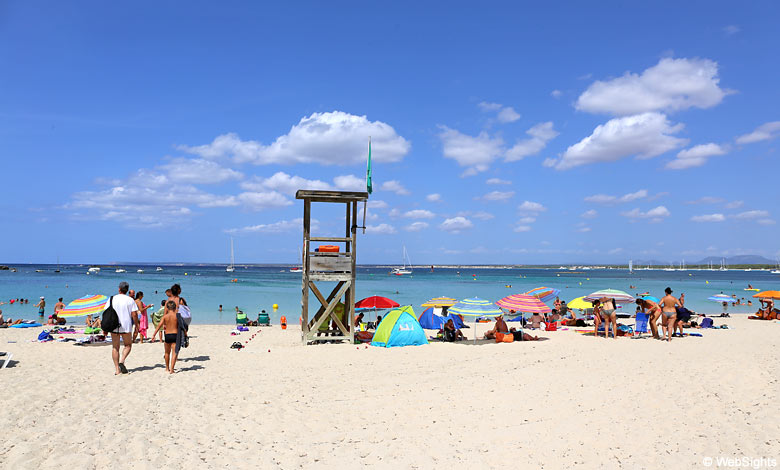 Child-friendliness
The beach is very child-friendly. The only minor drawback is that it may be a bit too crowded to play.
Water sports activities
It is possible to rent windsurfing equipment at the beach for both adults and children.
Beach restaurants
At the centre of the beach, there is a restaurant/café, which also serves as a beach bar.
Nearby holiday resorts
Platja s'Estany is close to the holiday resort Colonia Sant Jordi, which is a modern holiday resort with an old quarter and a charming harbour.
From the harbour, there are boat trips to Cabrera, an uninhabited group of islands, which was once used as a prison for French soldiers during the Napoleonic wars. The islands are now preserved and a wonderful natural experience.
Colonia Sant Jordi is surrounded by some of the most beautiful beaches in Mallorca. In addition to Platja s'Estany, Es Dolc and the popular Es Trenc are also located nearby.
---
Platja s'Estany map
The map shows the beautiful Platja s'Estany northeast of holiday resort Colonia Sant Jordi. Es Trenc is situated some 2 kilometres to the north.